It's hard to believe but we are now cycling at around 4,500ft, higher than any peak we have in England and on a par with the top of Ben Nevis in Scotland. We have to keep reminding ourselves of this because the landscape we are cycling across is almost completely flat – but they don't call this area of Colerado the High Plains for nothing.
The peace and tranquility is at odds with the way the day started, twelve TransAmericans making breakfast, boiling eggs and brewing coffee in a Kansas church, seemingly miles from anywhere. After more than a month of the road almost everyone now has the routine down to pat – and can break camp and be on the road in around an hour. Today takes slightly longer as there are new people to speak to, new stories to be told.
Esther and Warren (from Germany and Scotland) have been on the road for four years now and have cycled in China, Thailand, the Baltic States, New Zealand and various other locations around the world. They've come to America to complete their final ride before returning home – the TransAmerica.
I cycled with Mike this morning, chatting about life, the universe and everything and in particular the unfading belief people here have in the American dream, even if all the evidence around them is to the contrary. For Mike that ethos has worked well, but for many of those we've met in some of the poorest parts of the US, the dream still seems a long way off – yet most remain convinced hard work will eventually pay off. It's that optimism and 'can do' attitude that remains one of this country's over-riding strengths.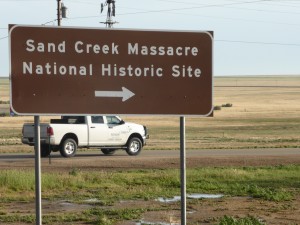 Sadly the American dream rarely applied to the Native Americans who lived in this area more than a hundred years ago. We cycled close to Sand Creek, scene of one of the worst atrocities of the Indian wars, when nearly 200 Cheyenne and Arapaho Indians were massacred by US soldiers. Those killed were mainly women and children and many of those slaughtered were mutilated by the soldiers. It seems extraordinary that the nearest town is named after the commander who authorised the attack, Col John Chivington, who went ahead despite Cheyenne Chief Black Kettle raising American and White flags to display their peaceful intentions. I would have liked to have cycled down the the site, but it was a 16 mile round trip and on top of a 90 mile day it was just too far.
After lunch in Eads (the first time I've ever eaten a steak before midday) we posed for photos at the official halfway mark of the TransAm trail and headed out for Ordway more than 50 miles away. This took us into an entirely new landscape – a dry flat grassland, much more arid and barren than we've been through before. Some riders we'd seen down the trail had warned us this area was rather dull, but Terry and I found it fascinating – perhaps because it was so alien to us.
At first it appeared completely deserted, but the more you look the more you see – and over the course of the next few hours we saw deer, nesting swallows, birds of prey, a mammal that was possibly a badger and numerous flowering cacti and desert plants. The roads are long out here – really long – stretching to the horizon in both directions, seemingly never ending.
At one point a slow moving vehicle appeared ahead, revealing itself from the heat-haze. At first we thought it was one of the large agricultural vehicles or wide loads that use these remote roads, but what materialised was bizarre – a slow-moving tractor, topped with a canopy, driven by a man with a long white beard and pulling two trailers. On the side of one were written to words 'Jesus Wept' John, 11.35, and as it went past it became clear it was in fact a large dovecote. The smaller trailer behind was also home to a collection of white doves. We couldn't quite believe what we had seen – it seemed more like the opening of a movie than real life.
At Haswell, seemingly deserted apart from one elderly couple, we paused for lunch in a weird place, seemingly reserved for the telling of ghost stories, which seemed appropriate given the surroundings. But it did have one claim to fame – the smallest prison in the US. Not surprisingly, there was no inmate.
The day continued to deliver surprises, particularly when a strong tail wind saw us covering the final thirty miles in around two hours, cruising into Ordway at around 7.30pm. Terry, who'd been cycling ahead of me on the final stretch had the find if the day when he encountered a rattlesnake in the road. These can be highly dangerous, so of course Terry got his camera out, leaned in close and got a picture that later that evening would shock the locals. "You were far too close," they warned telling stories of how the snakes could jump to inject their venom. It was a good job Terry decided not to push the snake out of the road with his foot as he had planned!
We stayed with Warren and Esther and Jerry and Jonathan at the Ordway Hotel, where the decor would have seemed more at home in rural France than the Colorado Plains, and then went for dinner in a local restaurant. It was here that my thoughts returned to the American dream as we sat chatting to Ed, a 74 year old with a twinkle in his eye. He had been an ironman in Las Vegas and had retired to Colorado attracted by cheap farmland. His claim to fame was that he and his mate, fast Eddie, perched high in the Las Vegas sky, had welded together the final section of the Stratosphere Tower.
He was still reaching for the skies all these years later. Despite a double heart transplant his eyes sparkled as he told of his plans to grow asparagus and water melons in the parched fields of Ordway. He'd worked out all the planting schedules and figures and was busy with a test plot, which he hoped one day would create a viable farm he could leave for his daughter. A dreamer? Maybe. But in America it seems dreams sometimes do come true.
Today's miles: 90
Miles since First Landing: 2224