These are links to some sites that have proved really useful in planning and organising the TransAmerica trip.
Fellow Riders:
Here are links to other riders we met on the trip: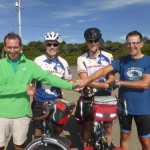 Jonathan Hoy and Jerry Smith: www.4panniers.wordpress.com
This is a greatly entertaining site written by Jonathan and Jerry from Oregon with whom we shared many happy miles on the trail. If you do nothing else make sure you read their post from June 2, 2014: "Advice for those training for riding in Missouri".  It is a brilliant piece of description and spot on!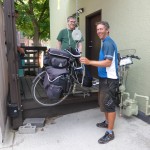 Mike Evans: www.crazyguyonabike.com/doc/tumble
We cycled more than half the TransAmerica with Mike and became firm friends. His blog, on the crazyguyonabike website, is lively, witty and features superb photographs. Like many of us, Mike undertook the ride at a turning point in his life and his reflections on completing the crossing are well worth a read.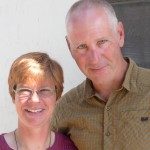 Esther Tacke and Warren Sanders:  www.estherwarren.wordpress.com
Esther and Warren's website is strap-lined: 'Cherry picking the best places in the world to cycle"  and they should know. When we met Warren and Esther in the foothills of the Rockies they were coming to the end of a four-year adventure cycling around the world. The TransAmerica was their final ride before returning to the UK. Their site is packed with advice and great stories.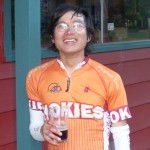 Tuan Pham: www.facebook.com/21transamerica
We rode with Tuan several times during our ride across America and it was great to reach the Pacific with him on July 19. A skilled photographer,  Tuan's Facebook page  showcases many of the images he took on route and is a great place to get a flavour of life on the trail.
The Bikes: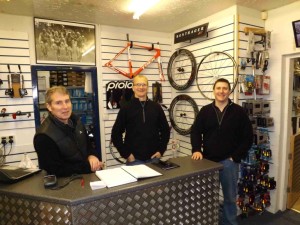 Richardsons Cycles at Leigh on Sea in Essex offer invaluable advice and expertise and have built up several Surly LHTs being used for journeys all over the world. They are always willing to go that extra mile to keep you on the road. Martin, far right, built up the Surly and worked with me to spec up the bike and kept me up to date with progress throughout the build. You can't beat the service offered by a local bike shop.    www.richardsonscycles.com
                                                                                         The Route: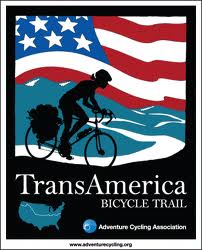 The Adventure Cycling Association was set up in 1973 to inspire and empower people to travel by bicycle and really is your first point of call when planning a TransAmerican cycle – or indeed any long distance ride in the States. With 46,500 members it researches and produces  maps for the Adventure Cycling Route network which has more than 20 routes covering 42,180 miles. This includes a choice of three East-West routes across the States – the TransAmerica, The Southern Tier and the Northern Tier. You can buy detailed maps (12 in all for the TransAmerica) which are packed with information and there's money off if you join as a member.   www.adventurecycling.org                                              
Blogs:
There are lots of blogs and websites on-line written by people who have already undertaken the TransAmerican – and it's well worth checking out as many as possible. Most have something useful to offer, but there are a few that I've found particularly informative:
www.transamericatrailcycle.com is written by Andy Strang who rode the TransAmerica from May – June  2008. While this site may be six years old and is certainly not the flashiest around , Andy writes well – and his post-ride top tips written in 2009 is well worth a read for anyone thinking of hitting the trail. Andy was the first person I emailed when I considered taking on the TransAmerica a year and a half ago and he replied immediately with a wealth of good advice.
www.crazyguyonabike.com   If you start looking into cycle touring then pretty soon you are going to end up on this website. -But beware: you will get lost in there for hours and suddenly it's four in the morning and you've got to be up for work by six. The mass of lists and links feels  like information overload when you first log on – but there is a logic behind the set up.  And its going to be a complicated because the site acts as a place where any cyclists can place details of their travels. The site currently hosts more than 9,000 journals and articles with more than a million and a half photos. A huge amount of information that will take you longer to read than to cycle the entire route. Enjoy!
Broadcasts:
www.thebikeshow.net  The growth in interest in cycling has lead to a boom in shows and podcasts, but few come close to the quality of The Bike Show broadcast on London art station Resonance 104.4fm. Presenter Jake Thurston's enthusiasm for all things cycling results in a diverse programme covering everything from interviews with cycling legends, to features on frame builders and rides through the mountains to remote bothies. Many of the interviews are recorded by Thurston while out on his bike and are always fresh and engaging. The programme is also available as a podcast and previous shows and interviews are all available on the excellent website.