By Terry
Still feeling a tad peeved for being charged full whack for a pitch when the State Park folk knew the showers didn't work, they didn't help themselves the next morning when two $8 breakfasts suddenly came to $25 (coffee and tea were extra!). What with that,  and with Paul having a thick head, the day didn't start too well. Things got instantly worse when we both missed our Skype slots to home as we hadn't noticed the change in time zones. And it was only 8 o'clock in the morning (or was that 7? Or 9?). On the bright side we have now honed our decamp routine to perfection … tents down and up and away in an hour.
As far as I could see as we went over the Rough River, the Falls of Rough was actually a disappointingly small man-made weir. I could be wrong and there might be an enormous Iguazu Falls size waterfall round the corner, but I doubt it. These minor niggles set the tone for most of the day … our first time almost just enduring, and not positively enjoying,  the ride as we laboured up and down over rivers, creeks and ditches in the overcast morning heat. Nothing particular, just an 'off' start. Perhaps we slept badly or may have even been a bit weary after a thousand miles cycling across America? Whatever …
After Paul had stopped to pick up his fifth turtle out of the road and deposit it on the verge I asked him if he'd ever seen any as roadkill (and there's been plenty of that. More later) and he said he hadn't. Nor had I. I'd stopped my animal welfare acts a couple of days earlier as I reckon that because turtles are slow and usually quite big, cars can, and do, go round them. Of course they could have some as yet unobserved survival technique that enables them to projectile vomit at high pressure and thus shoot them backwards to avoid the huge Ford F150 truck that was bearing down on it. Maybe, maybe not.
Unfortunately there has been a lot of roadkill … possum, racoon, chipmunk, deer, and a variety of birds. … but that could be seen as a positive sign of large populations of wildlife? It's definitely a positive thing for the ever present red-necked vultures constantly circling overhead.
Conducting a scientific study over the last few weeks, I have deduced that most animals, especially the large ones, get squished just before the top of a hill. My simplistic methodology was thus: cycling up these steep hills causes one to slow down, and increases the time for the observations. Also, cycling uphill requires more energy and this results in breathing deeply … very deeply … and this is the surefire way of detecting the whereabouts of roadkill… while you are gasping for air you suddenly get great lungs full of that nauseating, putrid, fetid stench of death and decaying flesh. And then you see it 20 metres ahead … a possum pancake … and there's nothing you can do about it … you just can't hold your breath for that long. If you're lucky, there will be honeysuckle around to sweeten the smell, but even that gets heady and sickly fairly soon. Generally not nice and not avoidable.
The day continued in its 'out of sorts' way when I inadvertently took us on an off-route excursion where we passed a deserted old trading post in the middle of nowhere that still had a hitching rail for horses. I thought things like that only existed in cowboy films. We also saw several barns with large colourful intricate geometric patterns painted on the front. Each pattern was different and we'd been wondering about these for a couple of days now … I guessed they were local QR codes advertising each farm's produce, but Paul wasn't convinced. It turns out that the area we were cycling through has a strong and proud tradition of quilting and these were painted examples of real quilts.
I managed to reclaim some map reading cred by getting us back on track … eventually … and with less than 10 miles to go to our First Baptist Church overnight stop the route was flat and agricultural. We phoned to confirm our arrival time and it appeared that the pastor and his wife would happily cook a meal for us. Above and beyond in my books. As we rode into the outskirts of Sebree I pointed out a nodding donkey in a field to Paul … he had no idea what I was on about. I can't be the only person that knows oil derricks as noddy donkeys can I?
Sebree looked an affluent city (it would be a town in the UK) and we were met at the church by a very smiley pastor, Bob Hardison, who showed us around the complex and introduced us to Josh, another cyclist … he was going from Chicago to Tampa in Florida to see his folks. The church hall/basement where we were staying was huge and fully appointed with a kitchen, showers and cosy area. It also had a table tennis table, a pool table and even an electronic drum kit … I started to give Paul and Josh my rendition of Ginger Baker's 'Toad' but they just walked off talking bike stuff. Rude or what!  Testament to the ferocity of the local weather, the room also doubles up as the local storm shelter.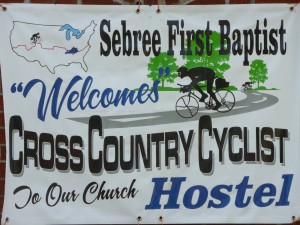 After a much appreciated shower we felt almost human again … and then the three of us were off to dinner over at Bob and his wife Violet's house. And what a dinner it was … Violet had not only cooked baked chicken spaghetti with masses of vegetables for everybody but had also cooked an enormous tray of macaroni cheese for yours truly. It was delicious. Seconds were even better. Thirds were offered, and almost accepted, but Violet had mentioned something earlier about cherry pie and ice cream, so we thought we should leave room.
Over dinner Bob told us about the area and that work and jobs were no problem …  that's why Sebree can support 10 churches … their congregation was the best part of 200 a week. And with said pie, ice cream and fresh strawberries, Violet regailed us with stories of their family, a missionary trip to Russia and previous cycling visitors (she cooks for all of them … over  250 last year alone!). Declining our offer of washing up (Bob's job) we waddled back to our rooms with the best meal we'd eaten in weeks safely inside us. Bob and Violet had turned the day around completely … they were such a warm, joyful, positive couple. The kindness of strangers! Shame they'd never heard of nodding donkeys either.
Todays mileage: 72.16
Miles since First Landing: 1094.44
Here's the full Garmin report: